It doesn't matter whether it is summer or winter, a visit to the beach is always good for a day out and luckily, no matter where you are in the UK, you're never too far away from one. If you have a mobility impairment, you might not think beaches are for you, but there are actually a host of accessible beaches and coastal areas that have beach wheelchairs and other mobility aids available to hire for the day. Here are ten UK beaches for an accessible day out at the seaside!
Beaches in England
For those of you looking for a beach in England to spend an accessible day out, here are some suggestions.
Whitely Bay, Newcastle
Whitely Bay is home to a number of all terrain mobility devices perfect for accessing the beach. The device, called a Hippocampe, was given to the beach for visitors to use as part of an ongoing campaign run by the Beach Access North East charity, which aims to help disabled people feel more confident about going to the beach.
Skegness, Lincolnshire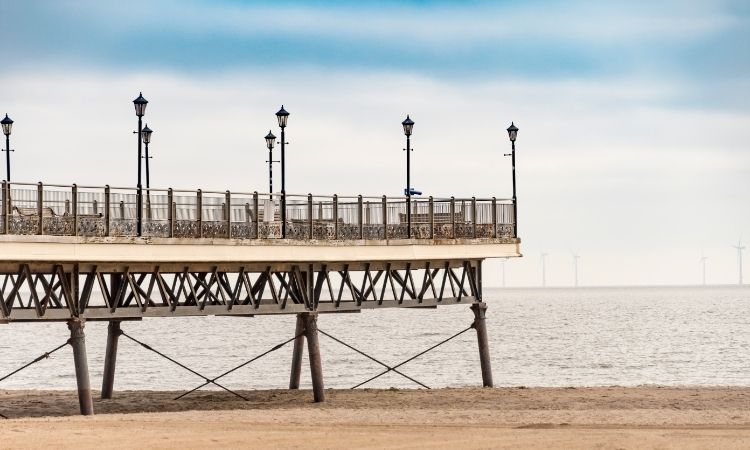 Skegness is a good option for anyone who wants an accessible day out at the beach. The town has an accessible promenade as well as shops, cafes and restaurants close to the sea front. Not only that but the local community funded some mobility devices so everyone can enjoy the sea front.
Brighton and Hove, Sussex
As Brighton is a haven for creative types and is generally an inclusive place, it isn't surprising that it has one of the UK's most accessible beaches. There are ramps leading down to the promenade at Brighton's beach and Changing Places toilers. Hove beach has an accessible walkway along the seafront and a number of the seafront attractions in both Brighton and Hove are accessible too – so you can really spend a whole day there.
Summerleaze Beach, Cornwall
This beach in Bude is one of the most accessible beaches in the south west, it has several wheelchair friendly facilities, the sand dunes are easily accessible and the calm waters make it a great place for swimming. The beach has several different beach friendly wheel chairs to choose from too, so no matter what your needs, there will be something for you!
Gyllyngvase, Cornwall
Gyllyngvase Beach is in Falmouth and is an award winning Blue Flag beach with accessible facilities right on the sea front. There are a number of businesses operating on the beach, including kayaks and paddle boarding tutors who have sessions available, whatever your mobility. The beach also has a number of beach friendly wheelchairs available to hire.
Want more information about accessible things to do and places to stay in England? Click here.
Beaches in Scotland
Scotland has some of the UK's best beaches, so if you find yourself in Scotland, make sure to take a look at some of these beaches.
Roseisle Forest, Burghead
This is a truly wild stretch of coast, with a forest on one side and the ocean on the other. The beach has a wooden boardwalk up to a wheelchair accessible outlook where you can enjoy the stunning scenery.
North Berwick, East Lothian

North Berwick is known throughout the UK as being Scotland's most accessible beach. There is a local charity working in the area hiring out mobility devices, plus it is only a short journey from Edinburgh – another amazingly accessible place.
See more accessible Scotland here.
Beaches in Wales
Broad Haven Beach, Pembrokeshire

Wales has several beaches with all terrain wheelchairs available. This particular beach is very picturesque and with its calm waters, makes a great place to spend the day with your whole family.
Poppit Sands, Pembrokeshire
Poppit Sands has an Adventure Wheelchair Walk perfect for taking in the amazing views that Pembrokeshire is well known for. Pembrokeshire is full of beaches, nearby is Aberporth beach which also has wheelchairs to hire as well as accessible accommodation right on the seafront.
See more accessible Wales here.
Beaches in Northern Ireland
It isn't just the mainland that has amazing beaches that are good for an accessible day out, Northern Ireland has some too!
Portstewart Strand
If you're a Game of Thrones fan, this is an absolute must, this beach was used as a location in the show – so make sure to head there and see if you recognise it! Not only that, but it is also one of the few beaches in Europe and the UK that allows cars to drive directly onto the sand – perfect for anyone with additional mobility needs. You are welcome to drive along to the perfect spot for you and then enjoy the views and the local bird life by visiting one of the accessible bird hides on the coast – the hides are suitable for a range of mobility aids, including wheelchairs.
Find out more about accessible things to do and places to stay in Northern Ireland here.
Inspired by this list? Let us know what you get up to on your accessible beach trips!
Related